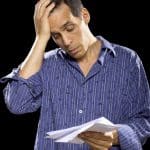 Steps if You're Denied a Personal Loan
Personal loans and car title loans are some of the quickest and easiest ways to get qualified borrowers the cash they need, but that doesn't simply mean you're a guarantee to be accepted for one. Different loans have different requirements, and there are situations where credit, derogatory marks or other factors could keep your personal loan application from being approved. What do you do if this happens to you? There are a few proper steps to take. Let's have a look.
Credit Report
Credit might be one of the central reasons why your application was denied, but there can be errors in a given credit report that lowers your score to an unacceptable range. By law, you're given 60 days after a credit report to request a free copy of the report, and the score the lender used to evaluate your creditworthiness. Look the report over closely for errors. Maybe a late payment was reported that you can prove never took place, or maybe an account you didn't open appears on your credit report. If there's any chance that incorrect reporting may have caused your denial for a loan, look into getting this remedied as soon as possible.
Credit Building
If your score is correct and credit was indeed the reason you were denied, it's time to take steps to rebuild your credit. The credit report will come with "reason codes," which are the most important factors impacting your score – they might tell you it's time to focus on paying down debts, or they might indicate you need to apply for a new account. Through these and other smart financial methods, you can create a plan to raise your credit score back to where it needs to be.
Consider Alternatives
If you're still badly in need of a short-term financial fix, you'll have to consider other options besides a personal loan. A balance transfer credit card is beneficial to some people, and others find success within a reputable debt management program – you'll pay a fee, but these services can help you reduce your overall debts much more quickly. To learn more about any element of title loans or
personal loans
, speak to the experts at Loans for Less today.
Tags: credit repair, personal loans, title loans