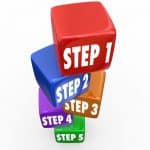 Understanding the Steps in the Title Loan Process
A big part of the appeal of car title loans and personal loans is their speedy nature. The ability to get quick cash for an emergency or other immediate expense is a big deal to many people, and at Easy Title Loans, we're here to get you the best deal possible on a title loan while also respecting the demands on your time. For most people, this means following a basic, tried-and-tested step-by-step process to getting your title loan approved and ready to go. Let's look at these basic steps to get you ready for your next application.
Inspection
The first step of any title loan process is the valuation of your vehicle as collateral, which mostly takes place through a basic inspection. All relevant value items will be examined by the lender's technicians, from functionality to appearance. Just to save a bit of time, make sure in advance that the location you're going to for a valuation accepts title loans for your make and model of vehicle – some may have restrictions.
Processing
While your car is being inspected, you'll fill out some brief paperwork to make your application official. This application will be considered, along with the value of your car and any other relevant factors – including your credit history, income situation and other financial elements.
Instant Lending Decision
On the spot, you'll be able to get your verdict. You'll be told whether you're approved or denied for a particular type of loan, and you'll be told the maximum loan amount you're eligible for based on the value of your car and other factors. This is the point where items like interest rate and loan term will be ironed out and finalized.
Signature, Drive Away
When the paperwork is signed and ready to go and the title has been appropriately transferred, that's the end of it – you're ready to drive off with your new cash and get back to your life. You'll now have a repayment to consider, of course, but you've gotten yourself some of the speediest and easiest cash possible with little to no hassle. To learn more about our title loans or any of our other
loan programs
, speak to the brokers at Easy Title Loans today.