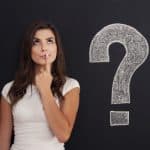 Receiving a title loan is a less complex process than nearly any other type of loan, and at Loans for Less, we're here to get you out the door with the cash and rate you need for your financial situation. Despite the process being simpler than many other kinds of loans, there are still several important questions you want to be asking as you get started. Here are a few of the most important things to be asking about, whether it's a title loan, signature loan or personal loan.
What's the Annual Interest Rate?
The typical rate on a title loan is 25 percent, but this is a monthly figure – it's
not
the same as your credit card, which charges interest rates annually. This same monthly figure would equate to 300 percent annually. Title loans have higher interest rates than most other formats, so don't allow yourself to be confused by the time period being used for the interest format.
What Fees Are Charged?
Some lenders will also charge additional fees on top of the interest rate, and others will require that you purchase loan insurance. Some may even try to charge repossession fees if this ever happens, even though this is illegal. Make sure you know well in advance what sort of fees you might be open to, and make sure they're documented carefully.
Is There a Forced Arbitration Clause?
Because there are occasionally shady dealers in this industry, you need to be careful. A forced arbitration clause is a contract some lenders might try to get you to sign, and it will waive your right to take any disputes before a judge. If possible, try to never sign one of these agreements – you'll be wide open to several unscrupulous practices.
What Are the Guidelines for Early Payments and Rolling Over?
Lenders want to make money, and the primary way they do this is through interest. For this reason, some may institute penalties for payments that come too early, before enough interest has been collected. If there's any chance you're planning to pay early, make sure this isn't the case. In addition, find out the guidelines for if you're behind on payments and need to roll over further. This will damage your credit and finances, but there are lenders who will work with you to limit the damage – while others might place a limit on how long or how often you can do this. Want to learn more about
title loan
questions to ask up front, or any other loan services? The brokers at Loans for Less are standing by.