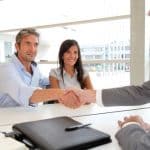 There are many ways to get money quickly when you're in a bind, but perhaps the simplest is using a personal or signature loan. These require no collateral, typically have low interest rates, and can be completed quickly to get you the cash you need. For signature loans, the name is the reality – all you need to get your cash is a signature. At Loans for Less, we offer a full range of personal and signature loans for people who need quick cash. What are the specific benefits of a personal or signature cash loan? Let's take a look.
Flexibility
Signature loans and personal loans are meant to get you some quick cash with as little hassle as possible. You're not putting up your car, your house or any other collateral, and there's no requirement for how you spend the money you receive – you have complete control over how it's put to use. Personal and signature loans do require solid credit since there's no collateral involved, but those who qualify are opened up to a new layer of temporary financial freedom. These loans can allow you to clear some debt, make a large but necessary purchase, or make a one-time emergency payment.
Lower Interest Rates
Because there's no collateral and these loans are based on credit alone, interest rates are generally far lower than other kinds of loans. Their terms are usually shorter, which means your monthly payments might be higher than other kinds of loans, but you won't be forking over tons of extra interest to get the cash you need.
Fixed Interest Rates
Perhaps even more importantly for people who struggle with finances, most personal and signature loans come at fixed interest rates. This means your rate can't change regardless of how much you spend or repay on the loan, a very big deal for some people who can't afford any month-to-month variability in their spending habits.
Can Improve Credit
In many cases, a personal or signature loan can actually improve your credit. Interest rates on these loans are often lower than most credit cards, and people who have run up a high credit bill from one or two large bulk purchases can use personal loans as a way to increase the amount of credit they have available. Because credit utilization is such a big part of what goes into your credit score, this can help the score go up in many cases. To know more, or you are interested in a personal, signature or car title loan contact 
Loans for Less
today, where our friendly and professional staff are standing by to assist you.