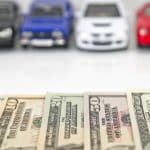 Benefits of Getting an Auto Title Loan
It happens to the best of us—there comes a time in your life when something comes up and you need cash fast. Whether it's an unexpected bill or you need cash for other expenses, car title loans are one of the greatest ways to get the cash you need quickly. If you are interested or thinking about a title loan, take a look at these benefits to car title loans:
Easy Access
Applying for a car title loan is fast and easy; you can either go online or make a phone call. The process is so simple you can be done in about 10 minutes. What's even better is that you will typically get a fast response on your application and if approved funds could be picked up that same day.
You Qualify if You Have a Vehicle
You can qualify for an auto title loan whether you have a car, motorcycle, RV, SUV, or truck. These loans are based on collateral by using your vehicle's title, not your credit.
Credit is a Not an Issue
If you are concerned about your credit or just don't want to have an additional loan reported on your credit account, an auto title loan is known as a no-credit check loan and is based off of collateral – your vehicle's title.
You Can Still Drive Your Car
Even if you get an auto title loan, you can still drive your car. The title is used as collateral in case you can't pay the loan back. Once you make the final payment, the title is returned back to you. You don't have to worry about how you are going to get around if you get a car title loan.
Cheaper than a Cash Advance
Auto title loans use your vehicle as collateral, and because of this, they have a layer of protection, so they don't have to charge as high of interest rates.
Easy Repayment Options
Quick and efficient repayment options are offered. With these loans, you will have an upfront schedule, that way you will know when payments need to be made.
Alleviate Stress
Life gets hard at times. If you are going through a tough time financially, a cash title loan can help you get back on your feet. There is no reason to live with extra stress when you are in need of
quick cash
.
Tags: auto title, auto title loans, title loans