Car Title Loans in Utah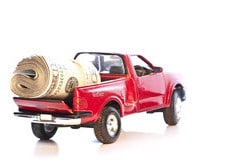 This is the tale of two borrowers. Jack and Bill. Each one lived and worked in Utah. They both had good jobs and a family to support.
One day, as can happen from time to time, they both ran into a cash crunch. Like so many others, the economy, emergencies, low hours, and all kinds of other things affected their ability to make ends meet. They needed some fast cash just to get by for a short period of time.
Jack went to a certain lender in town to get a $2500 title loan. It didn't take too long and he was soon out the door with his cash in hand.
Bill went to Loans for Less. He too got a title loan for $2500, was in and out in a flash, and had the cash he needed quickly.
When it came time to make their monthly payment however, Jacks's interest payment was $625 while Bill's interest payment was only $250.00. They each borrowed the same amount of money, $2500, for the same amount of time, 12 months.
One day, Jack ran into Bill. When Jack found out how much lower Bill's interest rate was he was blown away. Since there was now prepayment penalty, Jack went to Loans For Less, got a new loan to pay off his current one, and he too got a lower rate just like Bill.
Over the next few months, they were able to get things back in shape and pay off their loan. They just needed a little extra time and money to make things work out.
While a car title loan is not a long term solution, it can be a lifesaver when you need it. They're easy to get, you keep your car, and there is no prepayment penalty. At least that's the way it is at Loans For Less.
if you need an easy title loan, Loans For Less can usually lend 50% more and their rates are up to 70% less. Don't make the same mistake Jack did by going somewhere else. Loans for Less has convenient locations in Salt Lake City and Ogden. They've been helping folks just like you with auto title loans in Salt Lake City and Ogden for over 19 years.